Welcome to 'The Monthly Movement', a feature open to anyone out there who has an IBD or chronic illness, and uses the gym, yoga or any other physical fitness regime to cope with their condition. We hope to also invite other inspirational people, to get involved from outside our IBD community.
I'm Liv (@yogacrohnie) and I was diagnosed with Crohn's disease in July 2016. I suffered diarrhoea, severe pain, bleeding, bloating, weight loss and even arthritis in my ankles for around six months prior to my diagnosis. Before my diagnosis I wasn't really aware of Crohn's and didn't know what was wrong with me. Luckily I was referred to the GI (Gastrointestinal) team at my local hospital where they carried out a series of tests that resulted in my diagnosis.
It's been rollercoaster of a journey since diagnosis, trialling lots of different medications; steroids, Pentasa, Sulfasalazine, Azathioprine, Mercaptopurine and I am soon to be starting Adalimumab (biologics). I have not been able to tolerate many of the prescribed drugs due to horrendous side effects, which in the end were making me feel more ill. It seems to be that every time I start a new drug, it comes with a whole new journey of unpredictable and unmanageable side effects which feels like hell, only to get to a place where I then have to move onto something else and start the process all over again. During my stint of taking Aza, I started getting regular migraines that were debilitating and left me bed bound for days. I also developed dermatitis on my face and ended up feeling really low.
I was in a terrible mental state because I felt so out of control of my own body and constantly overthinking and worrying about the potential risks of the medication. The IBD team at Homerton Hospital has been literally amazing since the beginning, they always have a plan B or different route to take should plan A not work out and are always at the end of the phone when I need them. I was referred to a councillor where I completed a course of Cognitive Behavioural Therapy (CBT) to help with my mental health. The strategies I learnt during this have really carried me through the incredibly tough times and will continue to help me to keep strong mentally even when my body is giving up on me.
After CBT something changed in my mind and I became really interested in the concept of mindfulness and wellbeing. I wanted to give my body the best possible chance of staying as healthy and strong as possible without only relying on the drugs to do this for me. It also helps me feel like I'm maintaining a level of control over my condition. I've learnt other ways to try to handle, stress, anxiety and my general health too. I restricted my diet of diary, sugars, caffeine and I stopped drinking alcohol. Swerving alcohol helped so much with my symptoms and made my mental state much more stable. It wasn't easy but I could definitely see a difference in myself and for the better. I took the challenge on as I felt that I owed it to myself and every time I had a knock back and felt like I was failing. I just kept concentrating on my goals and where I wanted to be. I feel strong and determined. Now I really focus on my happiness because when you are completely happy in your own skin you can get through anything that is thrown at you.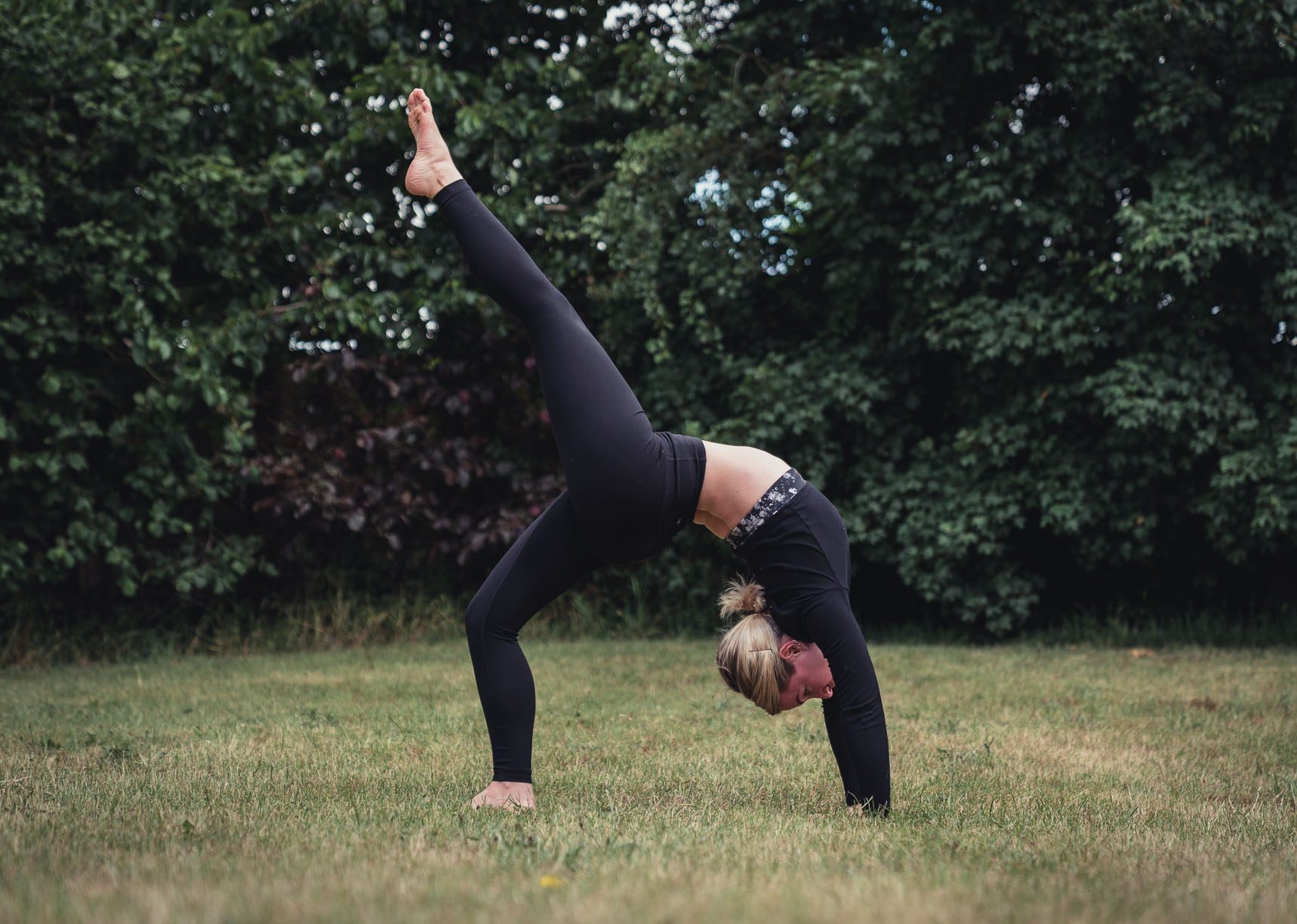 I have been practicing yoga on and off for over 10 years but I became serious about making the practice a major part of my life 2 years ago. I absolutely love that no matter how stressed and wound up I can be, I just have to step onto my mat and it all seems to melt away. The breathing exercises alongside the stretches calm both my mind and body. Symptoms feel so much better after an hours session and I just feel really weightless and relaxed. Practising meditation keeping my mind in the present helps me to focus on myself and what is important, rather than getting dragged down by what could happen with my disease. I practice at home as well as at a studio and try to push myself to get better at the poses and balances, I love the challenge of perfecting each pose, its honestly addictive and I feel so much happier, healthier and stronger because of it! My next adventure will be to finish my yoga teacher training so then I can help others and spread the amazing benefits that it brings.
I know that the journey isn't over but I am so grateful for everything that I have in my life and I will continue to respect my body and my mind, even with the unpredictability of chronic illness I believe that as long as you have a strong mind you can tackle anything. If you are interested in starting yoga or seeing if you like it, try out a few of the below moves, I have shown which are amazing for digestion, cramps; concentrating on strengthening your core, back and legs and hopefully leave you feeling a lot more relaxed.
CAT (Below)
CAT AND COW
Cat and cow poses help to relieve stress from cramps, lower back pain, and sciatica. Cat and cow flow increases flexibility of the neck, shoulders, and spine. The movement also stretches the muscles of the hips, back, abdomen, chest, and lungs. Cat pose held at its peak releases tension of the upper back and neck – take these 2 poses as a slow sequence back and forth 10 times moving between breaths (breath in for COW and breath out for CAT)
COW
SUPINE TWIST
This pose lengthens, relaxes, and realigns the spine. It massages the abdominal organs and strengthens the abdominal muscles. It is one of my favourite poses, it tones the waistline and also helps to remove toxins. Take this stretch on both sides and hold for 6 long breaths (about 5 seconds long) The legs can either be bent, parallel to each other or crossed over each other.
SEATED SIDE BEND
Side bends bring balance to your entire body. They lengthen the abdominal muscles, hips, and thigh muscles – ribs, neck and back, while improving flexibility in the spine. Take this stretch twice on both sides and hold for 4 long breaths (about 5 seconds long).
SEATED SPINAL TWIST
This seated twist enhances digestion. Stimulates the liver and kidneys. Energizes the spine. Stretches the shoulders, hips, back, and neck. Take this stretch twice on both sides and hold for 4 long breaths (about 5 seconds long)
SEATED FORWARD FOLD
This movement provides a deep stretch for the whole back side of the body from the heels to the neck. Forward fold calms the nervous system. Hold for 6 long breaths (about 5 seconds long). If you can't touch your feet then either use a strap/ belt or bend your knees. Try to bend from the hips. You can also try this pose on each side, making sure you do both sides for the same amount of time.
SEATED FORWARD FOLD ONE SIDED
SEATED FORWARD FOLD ONE SIDED VARIATION
BRIDGE
This backbend stimulates the abdominal organs and thyroid glands, which improves digestion and helps to regulate metabolism. It can be a particularly rejuvenating pose for those that sit for long amounts of time during the day as it stretches both the legs and shoulders.
SUPPORTED BRIDGE
If you are not yet able to take a bridge pose try using a block under the sacrum – you can even lift on leg at a time for a balance pose, or try lifting both!
SUPPORTED BRIDGE VARIATION
SUPPORTED BRIDGE VARIATION 2
WHEEL
This backbend follows on from Bridge pose; it stimulates the thyroid and pituitary glands. It is known to increase energy and counteract depression. This pose also helps to strengthen your thighs, abdomen, spine, shoulder blades, glutes, hamstrings, lower back, wrists, and arms. I would hold this for 5 long breaths (about 5 seconds long)
BOW
This pose can be quite uncomfortable if you have cramps but it helps to strengthen the muscles in the back, abdomen, arms, and legs and also stretches the throat, chest, arms, abdomen, hips, groin, thighs, and ankles. The back bend element of this pose activates spinal nerves, increases circulation, and strengthens the entire length of the spine. hold for only 4 long breaths (about 5 seconds long)
CHILD'S POSE
A relaxing restorative pose which helps to stretch the hips, thighs, and ankles while reducing stress and fatigue. It gently relaxes the muscles on the front of the body while softly and passively stretching the muscles of the back torso. The aim is to get your bum to your heels – hold this for as long as you like.
PUPPY POSE
The pose can be therapeutic for stress and anxiety, as well as chronic tension and insomnia. As a mild inversion, with the heart slightly higher than the head, Extended Puppy can help bring a sense of calm back into the body. The aim is to get your chest to the ground but try not to lose the stretch and control in your arms. Hold for 6 breaths (about 5 seconds long)
REVOLVED SIDE ANGLE POSE
Similar to seated side bend, this pose stretches the entire body, inside and out. It stretches the thighs, knees, ankles, calves, groins, chest, and shoulders. This pose builds strength in the legs as well, especially in the thighs and ankles. Take the pose on both sides. Hold for 6 long breaths (about 5 seconds long)
REVOLVED SIDE ANGLE VARIATION
LEGS UP THE WALL
Such a relaxing restorative pose to finish with, this pose helps the body to relax and relieves tension. It can help you to sleep so best done before you go to bed. Hold for as long as you like!
A massive thanks to U.C battler Russell Mount, for designing this awesome logo, for this exciting new feature. You can find more of Russell's work on Instagram @mountmountmount
...
Words: Liv Haskey, Matt Strutt
Images: Liv Haskey
Contributors: André Leitão Logo/Header Design: Russell Mount
Enjoyed this article? Like GCASFM on Facebook or follow us on Twitter.